Our Beliefs:

Abide in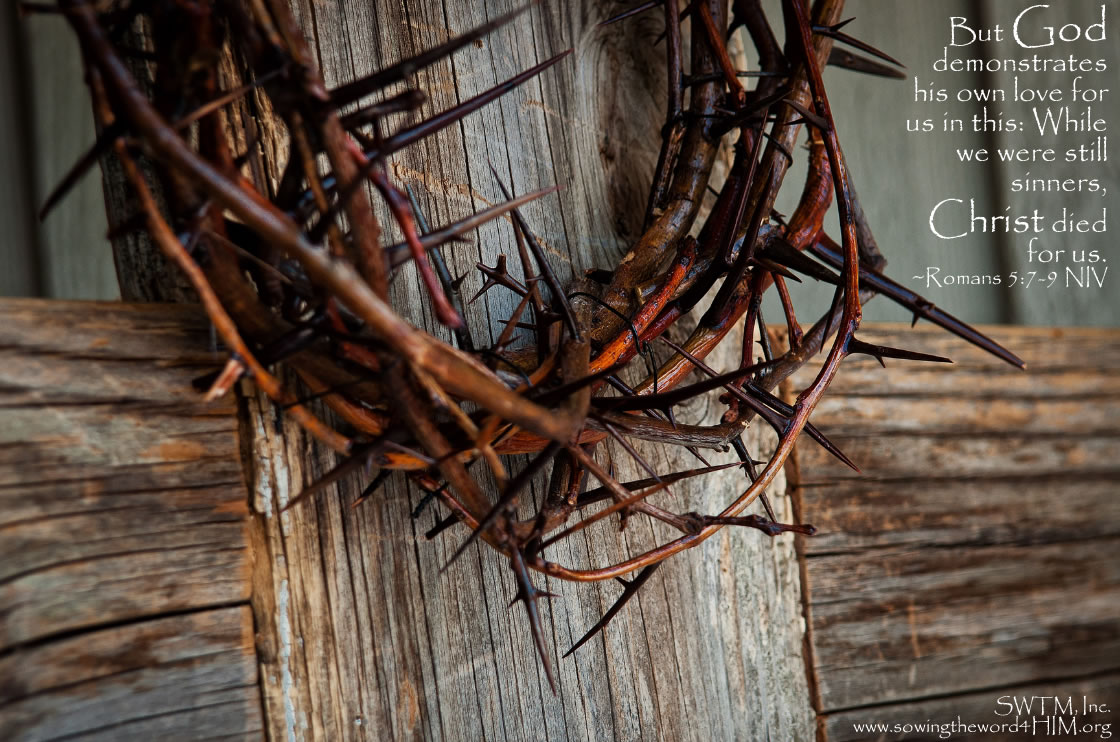 Christ Our Lord tells us what we are to do as branches in Him. Abide in me, he said, and I in you. Remain in me and I will remain in you. Just as the branch cannot bear fruit by itself, unless it remains in the vine, so neither can you unless you remain in me. ~John 15:4

Abiding requires a belief in the sacrificial work for Jesus Christ on our behalf. It is a dependence upon His provision of life and strength that is emphasized in John 15:4 - if you remain in me and my words remain in you, ask whatever you want, and it will be done for you. Thank you Father!

His Perfect Peace:
Peace I leave with you; my peace I give you. I do not give to you as the world gives. Do not let your hearts be troubled and do not be afraid ~John 14:27


Welcome to Sowing the Word 4-Him...



Let your Light shine - because when you do, it is Jesus!

What is the foundation in your life journey?

Above all else, guard your heart, for everything you do flows from it. ~Proverbs 4:23

When we compromise our convictions we grieve the Holy Spirit and miss out on the blessings that God so wants to share in our lives. Life is all about choices. God sets us free like doves to make decisions in our life's flight path. He desires for the choice in our life journey to be Him, in everything. He is everything!

If we confess our sins, he is faithful and just and will forgive us our sins and purify us from all unrighteousness ~1 John 1:9

Through "total surrender" in Jesus Christ, we are then spiritually ready to receive the very best that He has been waiting to share with us. He quickly replaces our burdens with joy and peace that surpasses all understanding. And the peace of God, which transcends all understanding, will guard your hearts and your minds in Christ Jesus ~Philippians 4:7

Partial surrender is sinful against God and grieves the Holy Spirit - this happens when our fleshly desires remain in our control and we turn them on and off like a light switch. Christ loves us unconditionally and He never turns us off. He is the Light of the world and the Light in our life journey! Your word is a lamp for my feet, a light on my path. ~Psalm 119:105

He is standing at the door knocking. Ask and it will be given to you; seek and you will find; knock and the door will be opened to you ~Matthew 7 :7

If you've never accepted Jesus Christ as your Lord and Savior, or you want to rededicate your life to Christ, click on the Surrender All link to get started now. Don't put this off another minute, Surrender All to Him today - you may not have another opportunity in your life journey.
May God abundantly bless you as you surrender to Him today! To hear more about Jesus, click here!
Sowing the Word Ministries, Inc. was founded by faith in Christ Jesus through the Power of the Holy Spirit. Our mission and vision is to share God's Good News with others so they may develop an intimate relationship with our Lord and Savior, Jesus Christ. This ministry is to God's honor and glory, now and forevermore!

© STWM, Inc.| 1063 S. State Route 157, Ste. 2-110 | Edwardsville, IL | 62025 |

Website: www.sowingtheword4HIM.org | Email: prayerfully@sowingtheword4HIM.org |

Pinterest: http://www.pinterest.com/STWMI/